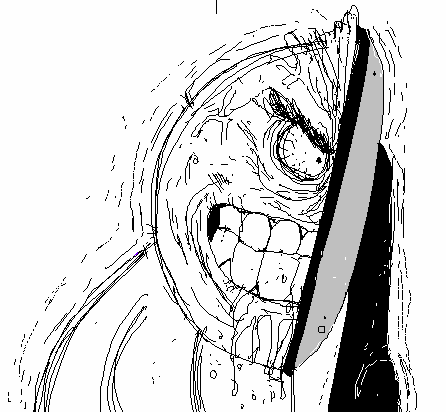 Korang pernah rasa tak perasaan menahan marah yang amat teramat sangat sampaikan kepala rasa cam nak tetanggal dari badan?
Pernah tak tahan marah yang sangat sangat yang teramat sampaikan muka and telinga jadi merah padam?
Pernah tak cuba ntuk menahan marah yang sangat sangat yang teramat sehingga menyebabkan amnesia?
Pernah tak? Pernah tak? Rasa rage yang sememangnya emosi negative sematamata?
Marah itu sakit. After marah hati rasa sakit. Sakit tu bukan heartache yang biasa biasa, tapi sakit tu rasa macam hati yang marah tadi duk kembang macam belon then waktu duk menahan marah tu hati yang kembang macam belon tibatiba kena cucuk ngan jarum and pecah. Uh sakit. Sakit yang memang saya takkan lupa sampai bila bila. Sumpah tak tipu. Saya takkan lupa.
Rasulullah pernah bersabda, "Janganlah kamu marah" dan baginda mengulangi ayat tu berkali kali. Menunjukkan bahawa perasaan marah tu adalah sangat tak elok dan boleh membawa kepada kecelakaan.
Seriously speaking, tolong jangan buat saya marah lagi. Cukuplah sekali rasa perasaan MENAHAN tu. Takmau dua kali, takmau tiga kali, takmau patbelas kali. Cukuplah sekali. Sakit tawu.
Ok tu je, assalamualaikum